Turbulence Training Day 40
Welcome to Turbulence Training Day 40. Fat burning workouts that'll cut and shape your body in 4 weeks. This is day 40 of Turbulence Training's Hardcore Fat Loss home fitness workout.
Turbulence Training Day 40 Video
Click HERE to get started with your Turbulence Training Workouts


Today's Workout
Warm Up
1A) Clean and Press
1B) 1-leg Ball Jack-knife
2A) DB Close-grip Press
2B) DB Split Squat
3A) Pull-ups (negatives)
3B) Dips
Interval Training: Squats and pushups (bodyweight intervals)
Cool down and stretching


Burn That Stubborn Fat And
Sculpt Your Body TODAY...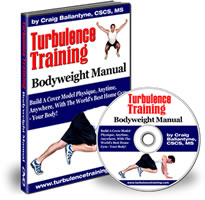 Turbulence Training Bodyweight Fat Burning Package - The Complete Workout-by-Workout Bodyweight Program...
...Including the tried and tested 6-Month Turbulence Training Bodyweight Manual plus more bodyweight videos and workouts than you can shake a stick at!
You'll discover how to burn fat and sculpt your body with only bodyweight exercises. Workout from the comfort of your home, and check that beach physique in super fast time.
=> Click here to achieve the body of your dreams (and take advantage of this great offer straight from Craig Ballantyne - the author of Turbulence Training)
P.S. These are the same workouts that I'm doing in the video above. You can see for yourself exactly how effective Turbulence Training workouts are. So, if you're not already doing so, you can track my progress the whole way by filling your Email and Name below:


P.P.S. Take ACTION today (because tomorrow never comes!), go straight to the Turbulence Training Bodyweight Fat Burning Package



TT Day 40 - Asad's Thoughts
Improved on last week's max. for negative pull-ups and dips.
I don't currently have heavier dumbbells, to progress I've reduced rest between sets.
Today's workout was from the Hardcore Fat Loss program - click here for details.
This is Asad from Better4Fitness.com signing off from Day 40.




Return to Video Blog Members Dashboard from Turbulence Training Day 40

Become a Video Blog Member and Access All Videos With Free Subscription Below: