Lying Ham Stretch
by Swati Joshi
(Pune, Maharastra. India)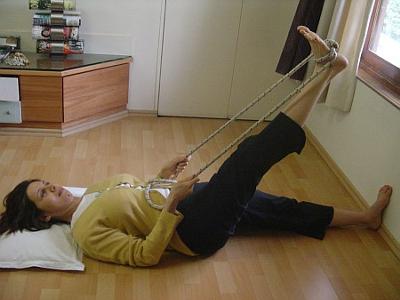 Lying Ham Stretch
To do the lying ham stretch:

1) Sit in front of a wall, knees raised and feet on the ground. Then slowly lie down, touching each vertebra from hip to neck on the ground. Now keep feet on the wall, take hip distance between.

Now push heel towards wall & lift groin towards body. Observe lower back vertebrae, ideally they must touch on the floor.

2) Lift one leg with flex knee, tie a long rope around foot, knot at transfers arch, hold rope with both hands and elbow touching the ground.

Extend knee and lift it towards body from the groin, leg right-angle to the body. See lower back must go towards hip. Keep foot at right-angle to the leg. Foot at neutral state.

Observe the feel of muscle, posterior (back) side,
Hamstrings are attached to sitting bone, upper leg and calf i.e. Gastrocneomius lower thigh to heel.

These muscles cross at back side of knee. These are very strong flexors of knee. We never extend them fully.

Written by Swati Joshi.