Get the Sports Injury Physiotherapy
Treatment You Deserve
Sports Injury Physiotherapy - Ask The Professionals:
Click Here to Share Your Sports Injury Story
Priceless advice from patients and therapists to help with your rehab. Physiotherapy (physical therapy rehab) is a widely recognised form of treatment...
Actually it's vital.
What is sports injury physiotherapy?
I bet you're thinking massage...
...you wouldn't be alone, and yes there is massage involved.
But it's only a small part of the therapist's job. Well it's probably one of the few things that is totally down to the therapist.
Other forms of treatment include:
Research based exercises
Click here to see easy physiotherapy exercises for pain in your foot, knee, back, shoulder or neck.


Joint manipulation and taping
Heat therapy and cryotherapy (cold therapy)
Electrotherapy
Hydrotherapy
Ultrasound
Click here to see what these physiotherapy treatments can do for you.
Treatment obviously comes after your medical history is taken and the initial assessment by the physio. This will pinpoint the exact injury and then he/she will plan your sports injury physiotherapy treatment with you.
---
When do you need sports injury physiotherapy?
Sports injuries can be classed as:
Acute - injury that occurs rapidly, usually unforeseen. Such as a broken leg from a bad football tackle.

Severe acute injuries tend to need medical attention first. Your doctor will advise on whether and when you need to see a physio.

Minor acute injuries may not trouble you as much but they are just as dangerous if untreated. For muscle injuries definitely use R.I.C.E. (Rest, Ice, Compression, Elevation) immediately.

If there is no improvement after 1 to 2 days I would recommend medical attention. For ligaments and suspected fractures it's not worth the risk waiting to get an x-ray.
Chronic - injury that occurs over time and/or is recurrent. Usually caused by poor technique or overuse of a specific action. In recurrent injuries the culprit is usually a premature return to action.

For all chronic injuries I would suggest seeing a physio as soon as you start to feel discomfort. Don't ignore pain. It's best to isolate the cause early to prevent further serious injury.
Click here to see the top ten injuries in sport and how to prevent them.
---
This is a
team effort.
You, your physiotherapist and other healthcare professionals all work together to get you recovered as soon as physically possible.
Well that's the idea anyway. It doesn't always work like that. It didn't for me, not at first. Over the years I've been treated by many physios, mainly for a recurring knee injury.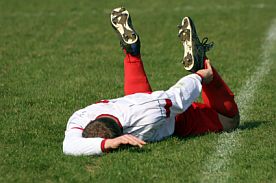 The very first physio was ok. The sports injury physiotherapy treatment was standard but nothing more. I didn't know exactly what the idea of a physio was at that time.
I expected him to do all the work for me. Magically make me better. How wrong was I?! My mind frame was totally wrong.
The end product was that 8 months later that same injury occurred. Mainly because I hadn't built up the thigh muscles surrounding my knee fully enough to get back into sport.
I had definitely learnt my lesson. But by then I was on a downward spiral mentally and physically. I don't want you to make the same mistake with your sports injury physiotherapy.




Mental attitude towards injury..
After the injury recurred, I had almost given up hope. I was recommended for knee surgery and knew it would be a further year before I was back into sport. I was devastated.
Being told I risk being wheelchair bound if I did the injury again was not easy to take. I was advised not to play football (soccer) again.
Bummer hey? Well of course yes it was! And I'm sure many athletes have felt that pain. It will tear even the hardest of hard down. It's a natural reaction to something you love. Something you base your life around.
BUT..that's just it, it's natural to react like that. No matter how strong, how fit, how careful you are, it's one of those things.
If you are a true athlete, and you play hard every game, give it your all, at some point you are bound to face an injury.
But we wouldn't have it any other way, would we? It's in our blood to give our all for something we love.
This is what I came to terms with. With advice from coaches, family, friends and subsequent other physiotherapists.

I grew a bond with each physio because I had sorted my mind out. And that was the major factor in my recovery from the operation. Belief is a powerful tool.
With belief you have hope, and with hope you can achieve anything.
My best advice is if you are stuck in a "no hope" rut, then go and talk to someone detached from sport and that you are comfortable talking to. It's a wonder how people with different priorities to you, have a way of setting you straight.
Surprisingly, realising that yes there are other things out there in the World, can help you focus on the one thing you really love, sport. And then you can really get down to the rehab with your sports injury physiotherapy.
Click here for more advice on coping with sports injury.


---
Do You Have a Sports Injury
Story to Share?
I know from my own devastating injury, the hardest part was getting a grip of what it meant in my life.
I desperately wanted to talk to someone who'd been through the same thing, who I could relate to, who understood my pain - physical and psychological.
I wish I had someone who'd "been there, done that" to give me that little bit of hope that would've made a huge difference. That's exactly what you can do here, by sharing your sports injury story.
Share Your Sports Injury Story
Do you think your experience of injury can help others? Maybe you just want to share what you went through? You might have more advice about sports injury physiotherapy?

Whether you've recovered, or are in the process of recovering, your story is valuable to us all. Share your sports injury story below.

The words of experience are priceless...

Read Other Inspirational
Sports Injury Stories
Click on the links below to see more sports injury stories. They were all submitted by other visitors to this page..
Return to Exercise Fitness Home from Sports Injury Physiotherapy.