Mediterranean Recipes
For The Perfect Food
Mediterranean recipes from Spain, Italy and Greece. Discover why the food from these Med countries is so good, and tips to cook their signature dishes.
The Mediterranean covers a huge area, bordered by 21 countries from Europe, Asia and Africa. Useful geography facts there!
The large area means it's had a wide range of influences, when it comes to food. It'd be impossible to go through Mediterranean recipes from all of those countries, on a single page. They each have their unique tastes.
I'm going to focus on 3 countries that I've experienced first hand, and have the food I love most - Spain, Italy and Greece.
I discovered the Mediterranean diet (their way of eating, not a diet!) in Cyprus. Usually it refers to the European part of the Med. And it's this part that combines great tastes with healthy, balanced eating. The perfect combo.
Even with very different tastes, all Mediterranean recipes are linked by core fresh foods - bread, potatoes, fruits, veg, nuts and beans. And the one common love of the Med, is olive oil - great for your heart and body as a whole.
The other common link is the belief to do some sort of physical activity every day. That ties in well with the rest of this website. The Med (and my) attitude is, that physical activity is a part of life.
Let's get to the food!


---

Mediterranean Recipes - Spain
Favourite Ingredients
Olives. Olives are often stuffed with anchovies, and eaten as a snack.
Red and white wine vinegar. Red wine vinegar is used in cooking. White wine vinegar in salads.
Rice. Rice is most commonly used for paella.
Artichoke. Small artichokes are used in tapas.
Capers. Capers give great flavour to fish dishes.
Paprika. Adds flavour and spice to many dishes.
Signature Dish - Paella
A traditional Mediterranean recipe of paella, cooked in paella pan. If you don't have one, you can use a shallow frying pan. But you'll get the best flavour using a paella pan, they're not expensive (15 inch pan is about $24 - serves 6).
Ingredients (for 6 people):
Olive oil - 12 tablespoons.
Bomba rice (medium grained rice) - 2 1/2 cups.
Boneless chicken pieces - 2 1/2 lbs.
1 large ripe tomato - peeled and grated.
1 lb green beans - cut into pieces.
Paprika - 1 teaspoon.
A pinch of saffron.
1 clove garlic - finely chopped.
Preparation:
1. Pour olive oil into the pan on medium heat, add chicken pieces and brown.
2. Toss in the green beans and garlic. Stir for 5 minutes. Add tomato and stir a further 5 minutes.
3. Add the rice and spread evenly around the pan. Turn heat up to high and add the paprika and saffron. Pour in 5 cups of boiling water evenly.
4. Cook on high heat for 10 minutes without stirring at all. Simmer for a further 5 minutes on medium heat, again no stirring.
5. Remove the pan from heat. Cover (with foil or cloth) and allow it to stand for 5 minutes.
6. Serve and enjoy.


---

Mediterranean Recipes - Italy
Favourite Ingredients
Olives. Green and black olives are used for loads of dishes, especially in pizza and pasta.
Pasta. The Italians' age old food of choice. They come in all sorts of shapes, my fav being penne.
Balsamic vinegar. Strong and sweet taste, used sparingly but often.
Tuna. Tuna's a great fish because it can be used in many different types of dishes.
Sun-dried tomatoes. I love sun-dried tomatoes. Another strong flavour that can be used in meals or as a snack.
Oregano. Oregano and its mate basil, are often behind the great tastes of Italy. Most often used in pizza.
Signature Dish - Pasta
Mediterranean recipes are filled with pasta. It's popular with all ages, from kids and students all the way to fine diners.
But the question everyone asks is, how do you make perfect pasta? Aside from great advice in "The Sopranos", here's a few tips on cooking that perfect pasta:
1. Make sure the pot is big enough. This is crucial to stop the pasta from sticking. You should have at least 2 1/4 litres of water per 225 g of pasta (serves 2). You'll need a big pot for serving more than 2. Make sure the water is boiling before you add the pasta. Give it one stir.
2. To salt or not to salt? I hate adding salt to anything, I'd rather use herbs or spices. But if you must, 1 level tablespoon is fine for serving 2 (adjust to your taste).
3. No need for a lid. If you made sure the water was boiling before you added the pasta, it will return to the boil quickly. Set a timer for 8 minutes, at which point you should taste it. Keep tasting every minute, until it's firm but not hard (Al dente).
4. Drain but don't rinse. Keep the colander ready in the sink, and drain until most (not all) the water has gone.
5. If there's sauce with your pasta dish, add the pasta slowly to the pan containing the sauce. Mix it into the sauce as you go along.
6. Serve it hot and enjoy.


---

Mediterranean Recipes - Greece
Favourite Ingredients
Olives. Large, black olives eaten as snacks or on the side.
Vine leaves. Great for stuffing with tasty fillings as a snack.
Chick peas. As well as other beans and lentils, but chick peas are my fav, especially in the form of hummus.
Honey. Used in sweets and desserts.
Signature Dish - Stuffed Vine Leaves (Dolmades)
These are great as a starter or just a snack. I usually end up eating so many they fill me up. As usual, the variety in Mediterranean recipes means there's many different ways to make them.
This recipe is for vine leaves stuffed with short-grain rice, nuts and herbs:
Ingredients (makes 20):
Short-grain rice - 1/2 cup.
Olive oil - 1 tablespoon.
2 cloves garlic - crushed.
Shallots - 3 well chopped.
Toasted pine nuts - 50 g.
Sultanas - 50 g.
1 Lemon (juice).
Mint and parsley - well chopped.
Spring onions - 1 bunch well chopped.
Black pepper.
20 vine leaves - rinsed in water.
Water - 3/4 cup.
Preparation:
1. Heat the olive oil, add garlic and shallots to the pan on medium heat.
2. Add the rice, pine nuts, sultanas and lemon juice. Cook for 1 minute, add some pepper and then pour in the water.
3. Cover and let it simmer for 15 minutes.
4. Turn off the heat and leave to cool. Once cool, add mint, parsley and spring onions.
5. Put vine leaves (vein side up) on a clean, flat surface. Scoop 2 or 3 teaspoons of the stuffing on to each leaf. Fold into a small, square sausage shape.
6. Enjoy them cold.


Final Word
There are literally hundreds of Mediterranean recipes to keep you busy. The Med diet has become more and more popular as people discover the health benefits.
For me, Mediterranean food symbolises a whole way of life. A very social way of eating, with the emphasis on enjoying the food and all its tastes. A very relaxed way of life.
With so many simple Mediterranean recipes, you should give them a go. Enjoy your food, keep healthy and active, live a long wonderful life.
Do it the Mediterranean way.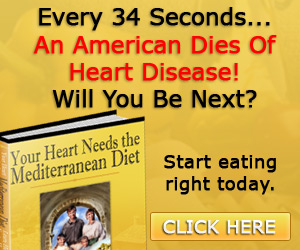 Return to Exercise Fitness Diet from Mediterranean Recipes.
Return to Home from Mediterranean Recipes.