AT Personal Trainer London
London's Brightest Personal Trainer
Personal Trainer London, AT Personal Training Guarantees You Will Drop at Least 1 Clothes Size in 4 Weeks
Who else in London wants to burn fat fast and sculpt your body in only 2-3 sessions per week, using fun workouts that are nothing like you see in the gym?
Claim Your FREE Consultation Now 07958 009 358
"People become really quite remarkable when they start thinking that they can do things. When they believe in themselves they have the first secret of success."
Norman Vincent Peale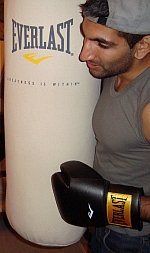 Hi, I'm Asad T. based in Wimbledon (SW19), and I am
extremely passionate
about this thing called fitness.
I was inspired by my own fat loss success to become a Personal Trainer in London, so that I could help people, just like you, reach your goals.
My experience helps me relate to the problems involved with your fat loss and fitness goals.
This allows me to create better solutions that are best suited to your unique needs.
I look forward to getting to know you better and working with you to achieve that ultra-sexy body that you can't help but show-off!
"When we are motivated by goals that have deep meaning, by dreams that need completion, by pure love that needs expressing, then we truly live life."
Greg Anderson
Why Choose Asad, Personal Trainer London?
Drop at Least 1 Clothes Size in 4 Weeks
Have more energy and a healthier body
Unique, FUN and effective workouts
Complete Nutritional advice and support
Customised Workout AND Nutrition plans
Dedicated to helping you reach your fitness goals
"Create a definite plan for carrying out your desire and begin at once, whether you're ready or not, put this plan into action."
Napoleon Hill
Special Offer
I am extending my Personal Training offer exclusively to you. You will get 2 training sessions for FREE (value £70), on top of a FREE consultation (value £35).
This offer extends to all your friends/family too, plus if they mention your name then you will get another session FREE (1 free session per referral).
Simply call me on 07958 009 358 and hopefully I can get you a few weeks of free training.
Note: Spaces get booked up quickly so you or your friends/family must call me today to be guaranteed your preferred training time.
Call Today To Secure Your FREE Sessions
07958 009 358
"You may never know what results come of your action, but if you do nothing there will be no result."
Mahatma Gandhi
100% Satisfaction Guarantee
I am so confident that you will enjoy my training, see a dramatic improvement in the way you look and feel, and have a great time doing it, that I am offering you a full 14 days to try it out.
Attend the first two weeks of training with me and if it is NOT what you were looking for, come and have a quick chat with me and I will refund your money.
"Every accomplishment starts with the decision to try."
Unknown
AT Personal Trainer London Specialities
*** Personal Training ***
*** Fat Loss Nutrition ***
*** Women's Boot Camp ***
AT Personal Trainer London Qualifications
Personal Training (REPS accredited)
Fitness Instructing
Exercise to Music
Studio Cycling (Spinning)
Circuit Training
Sports Nutrition
Gym Based Boxing
"Success is not final, failure is not fatal: it is the courage to continue that counts."
Winston Churchill
Call Today To Secure Your FREE Sessions
07958 009 358
Or
Fill The Following Form and
We Will Call You Back
Personal Trainer London, AT Personal Training Location
Return to Personal Trainer Fitness from Personal Trainer London
Return to Home from Personal Trainer London